If you are already a member of our church, please enjoy this site as a reminder of the community of faith with which you are connected and the fellowship of believers and seekers with whom you are involved in mission and ministry in the name of Jesus Christ.
Upcoming Events
Despicable Me 2
Reformed super-villain and super-dad Gru joins forces with the fabulous Minions to fight evil – sequel to recently released hit Despicable Me 3!
Saturday, July 15, 8:30pm
Bring the kids, bring your lawn chairs
Hot dogs and hamburgers available at 7:30pm
No cancellation for rain…movies move inside.
Pastor Travis Knoll's first Sunday with us

We welcome Pastor Travis Knoll and his family on July 2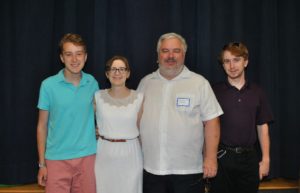 shown left to right: Lewis, Sarah, Travis, & Caleb. Not pictured is eldest son, Dean
Sunday Worship Services
9:00 – 9:45  AM      Contemporary Worship
9:00 – 9:45  AM      Bible Study
10:00 – 11:00 AM   Traditional Worship
10:00 – 11:00 AM   Sunday School
10:00 – 11:00 AM   Nursery
Fellowship follows both services.
Nursery Care for children under 3 is provided during the 10:00 service.
Sunday School for children age 3 through the 8th grade.
Inclement weather
In the event of inclement weather, please listen to WBAL Radio AM 1090. A decision will be made by 7:30 am on Sunday morning as to the church holding services that day. We also use a phone robocall service and text message service, if you prefer an automated notification. Please contact the church office to subscribe to either of these options.