Baltimore County Christian Workcamp (BCCW)
The 34th annual Baltimore County Christian Workcamp is July 16-21, 2017! This is a very worthwhile hands-on mission that helps people in our own community. Do you have a day or more you could give? If so, contact Steve Lippy.
The task of the BCCW is "to share the love of Christ by repairing the homes of some limited income families in Baltimore County," primarily during the third week in July. BCCW is led by lay people and is an ecumenical group, with representation from 30-40 churches. Each year 150-250 volunteers work to repair 25-40 homes throughout the county.
BCCW is a "commuter's workcamp" where you can commit to working as little as one half day, and, you can sleep in your own bed at night!
Hunt's has supported BCCW, a 501(c) (3) organization, since its founding in 1984 by two Methodist pastors. Since 2003, the work camp has based at Hunt's Church. The week begins with a Sunday evening kickoff dinner. Workers gather each morning at Hunt's during the week to enjoy breakfast prepared by a sponsoring church, prepare their own lunches, and then set off to their respective work sites.
For more information, please visit their website: http://www.bcchristianworkcamp.org/
Ten Hunt's members along with several people from other churches helped to build a 94-foot ramp in October!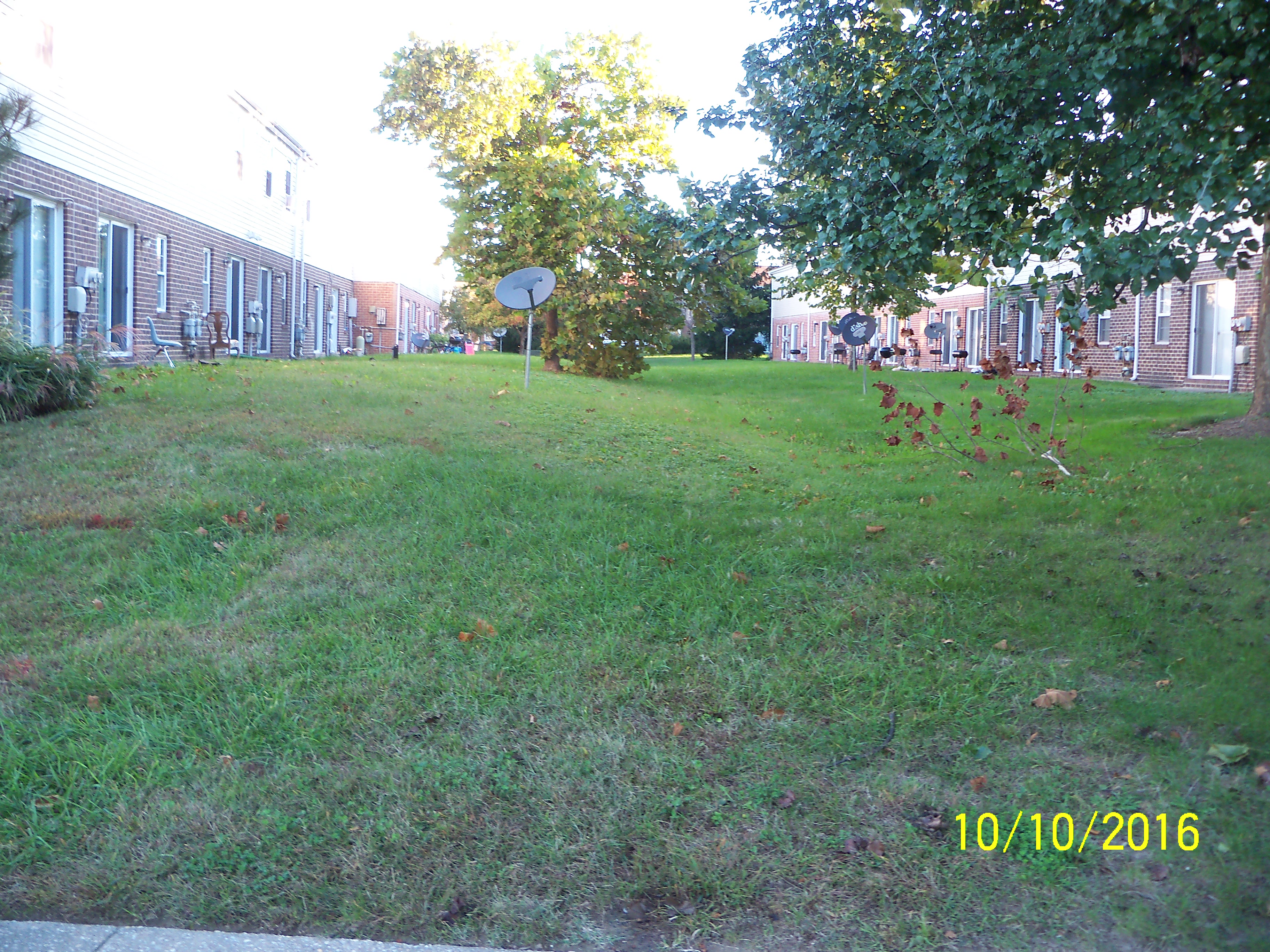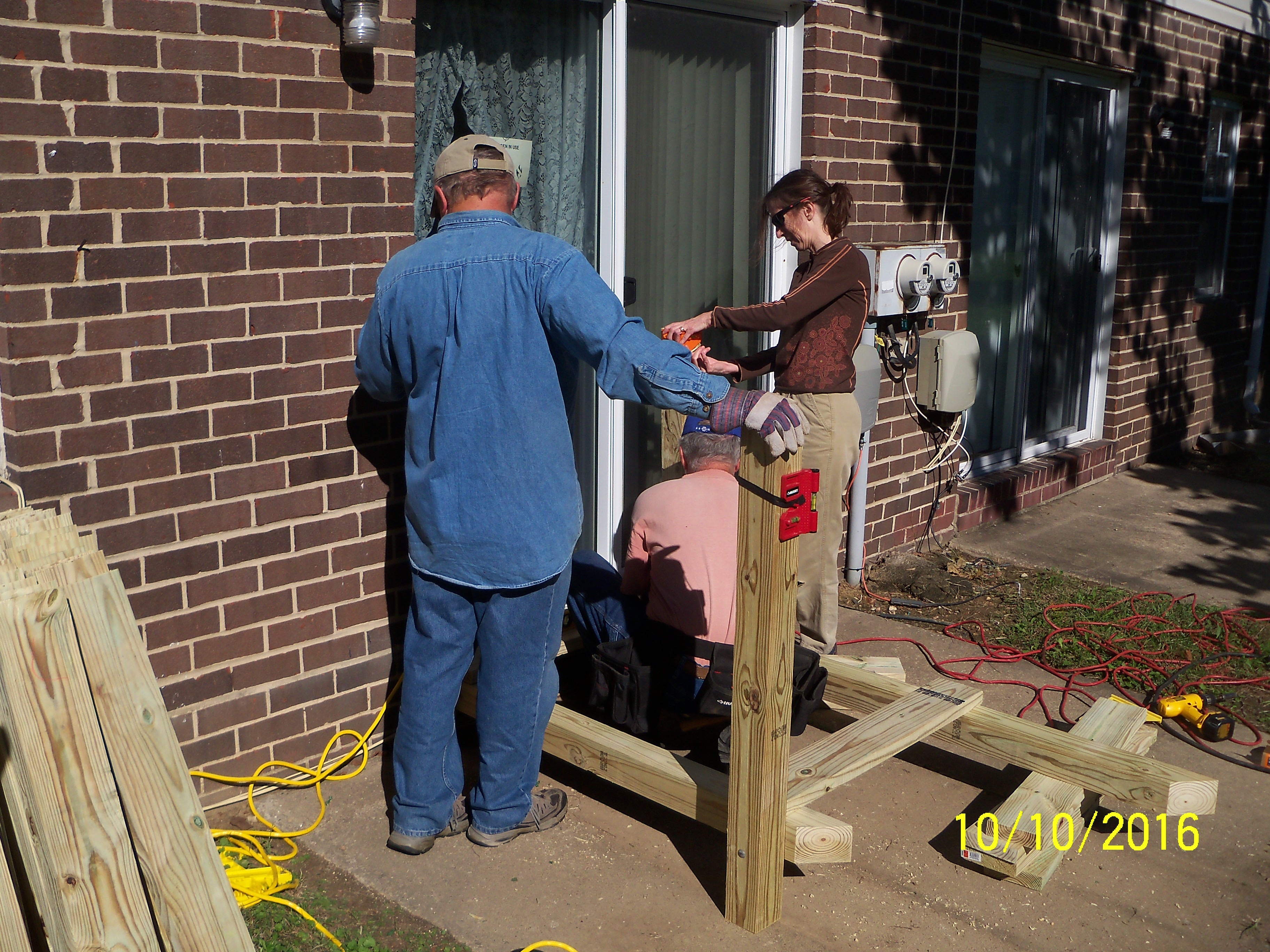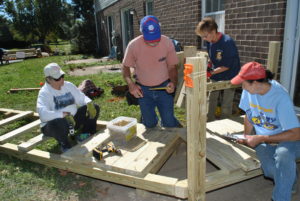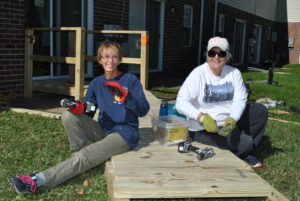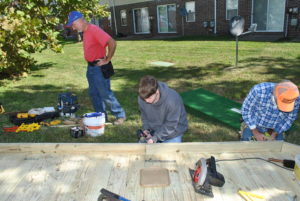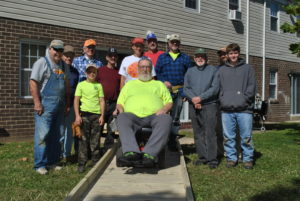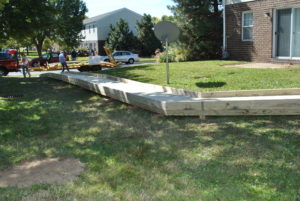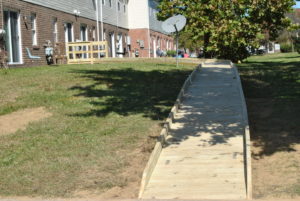 Enjoy these photos from July 2016's week of service and read a summary of the ramp story at the end:
The notes on this worksite stated that it might not be possible or reasonable to do a ramp: not possible due to how long or complex it would need to be and not reasonable due to the resources (i.e., cost and number of man/woman power) needed to build it. Notwithstanding, we decided that the ramp system could be built and that we should undertake it. There was a definite need for the ramp as the resident had not been out of her house for several years and could not go to doctor appointments.
With additional help from members of four other churches, our total crew size at the site varied from 9-16, depending on the day and time; the assistance from these non-Hunt's members enabled us to complete the ramp.
This ramp system was the longest and most expensive in BCCW's history: a total length of 164.4′ (exclusive of four steps to the back landing), consisting of a back ramp (20' long with one landing) connecting into a "boardwalk" ramp (99′ long with a few bends, only 4-7" above the ground) connecting to a front ramp (40′ long with two landings, one of which was a double landing) which ended at a driveway. There were 46 posts (40 post holes drilled into the ground).  An estimated 57 work days were put into the ramp, approximately 415 hours, exclusive of over 24 hours in prior site visits, planning, and lumber purchase.  The approximate cost was over $2,425 for the ramp; the entire cost was covered by Hunt's via donations and the Carroll-Gill's Endowment Fund.
Notwithstanding all the sweat and aches and pains during the week, it was worth it; because, around Friday 2:30 pm, the homeowner was wheeled down the ramp by her nurse and we could experience and be part of her overwhelming JOY! while she was praising Jesus and crying the entire time.  At the end of the ramp, there was an impromptu mini-service as we held hands and Pastor Gary and the resident both prayed.