Hunt's is an active church.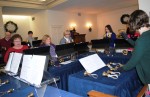 The bell choir usually rehearses Sunday mornings, following the traditional worship service and participates in the traditional worship service several times through out the year. There are openings for anyone wishing to participate in a unique music ministry. Bell ringing experience is not necessary, but basic music reading ability is helpful. If you have a desire to learn how to play, we can teach you from scratch. Regular members as well as substitutes are both welcome to join. Sometimes desire and dedication is what counts. Please contact Barbara Anastasion at climbrei **at** aol.com
Bible Study Groups

We have two Bible Study groups that meet Mondays at noon and at 7:00pm in the Adult Ed room. The current discussion topic is based on the book series, Journey Through the Bible, which is a long term approach to studying the Bible and highlights pivotal points in Scripture, lifting up the Bible's most significant stories, themes, events, and people. This series, Volume 9 – Matthew, is 13 weeks long and begins on Monday, January 27. Books are available in the church office for $11.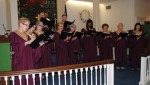 The Chancel Choir rehearses Thursday evening from 7:30 to 9:00 PM during the school year and sings during Sunday traditional worship services at 10:00am. "Auditions" are straight forward and conducted during regularly scheduled rehearsals. Bring with yourself a desire to sing. In addition to providing music for the traditional worship service, the Chancel Choir also performs a cantata during the Christmas and Easter seasons.
Funhunters
If you're interested in adding a little fun to your regular routine, try joining the Funhunters on their next excursion. They generally meet on the 2nd Friday of each month for lunch. The next luncheon is the October 10 at 11:30am at McFaul's Iron Horse Restaurant at 2260 Cromwell Bridge Rd in Parkville.
Men's Fellowship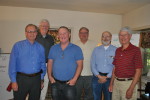 There is a men's fellowship group that meets in Agape House every Friday morning at 7:30am. It is open to anyone interested. Discussion topics are decided by the group and often follow books of interest. Meetings typically end by 9:00am. Coffee and occasional baked goods are provided by a member.
The Mid-High Youth Group is a fun and active youth group open to Middle High School students, grades 6-8.
Praise Band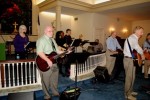 The Hunt's Praise Band leads the congregational worship for the 8:45 contemporary service using guitars, drums, bass, keyboards and voices to upbeat contemporary praise and worship songs. The band is led by Jim Holford and rehearses on Tuesday evenings at 7:30 in the church, and is always open to new members who would like to share their instrumental or vocal talents to make a joyful noise to the Lord.
Prayer Shawl Ministry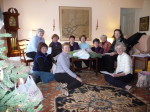 The prayer shawl ministry began at Hunt's Church in 2009. We have twenty active knitters who meet about five or six Sundays a year to knit and bless completed shawls. Otherwise we knit at home. We have given 190 shawls to recipients at times of death, illness, and joy – births. They are given to anyone in or outside our church and serve as a reminder that  the Hunt's family is praying for them. Several such ministries have been started across the country. The letters of appreciation for the shawls indicate how much comfort and joy they bring to recipients.
The Senior High Youth Group is a fun and active youth group open to High School students, grades 9-12.  The group meets September thru May weekly on Sundays 6:30-8:30pm. Sunday evening meetings focus on topics that are important in the lives of the youth while providing spiritual growth and learning.  The meetings are also a great opportunity for the youth and adult leaders to share their weekly happenings with each other, lending support and sharing laughter.
A group of women meet for breakfast Saturday mornings bimonthly to discuss contemporary topics. Guest speakers sometimes lead the discussions.